Top Hotel & Restaurant Interior Designers
V Spice at the Victor in Miami designed by Jacques Garcia
Jacques Garcia
is considered the only person to have transformed classical Parisian style into style so unique that is is highly sought after worldwide. Many people have heard of his works, but seldon heard of his name. For the Middle East most people have heard of or have experienced Albergo Hotel and Cafe La Mie Doree in Beirut, but don't know that Jacques Garcia was behind it. Also the world famous
Hotel Costes
music album has the music mix played at Hotel Costes in Paris, which has the best courtyard lunch, is also deigned by Jacques Garcia. Recently, Garcia has crossed the Atlantic to design the faboulous Victor Hotel in Miami.
Sambal in Mandarin Oriental Miami designed by Tony Chi.
Tony Chi is famous for his theatrical restaurant designs, emphasizing on on colors and a mix of elements. At Ye Shanghai in Shanghai has allowed me to understand his design as I compared it with Teatro in Dubai. I consider him a concept based designer, where the underlying concept, defines his style.
Senso Restaurant & Bar at Hotel Le Tremoille in Paris designed by Sir Terrence Conran.
Sir Terrance Conran, the founder of Habitat furniture store and later The Conran Shop is the leading authority in design in the British Isles, as evident by his title, the only designer knight. Recently he has crossed th English Channel by deisigning the uber glamourous Senso in Paris.
Pod in New York City designed by David Rockwell.
David Rockwell is one of the most sought after hospitality and restaurant designers in the states. Of his most notable design works is Nobu and Nobu Next Door in the big apple. Unlike other designers that stick to signature design, Rockwell is a very flexible, concept-based designer. Rockwell closely works with Starwood, for the W brand of designer hotels. The W Westwood is certainly a departure from the conventional hotel. The lobby is more of a dim lighted cozy lounge than a mere reception area.
The Hudson Bar at The Hudson Hotel in New York City by Phillipe Starck.
Phillipe Starck is probably the most famous designer in the world, having his print on everything from Hotels to watches. His fusion of classic design elements and play with proportion with minimalistic design elemets have given him a recognizable and distinct style. So far I have expereinced 5 of his masterpeices. Sanderson and St. Martins Lane hotels in London, Jia in Hong Kong, Bon in Paris and Modrian in L.A. For me it was a Phillipe Starck overdose, I don't think I can take more, but I know I will find my self crawling back into his designs. Call it addiction if you like, but isin't that the reason he is famous?


B+F Burger Boutique in Kuwait (Conceptual Design) by Amsterdam based Concrete.


Concrete Architectural
based in Amsterdam is one of the design firms that like to defy convention. They are the designers behind the world famous Supperclub of Amsterdam and Rome, where basically diners eat while lying down on huge mattresses, chatting, sleeping or whatever you wish to do (ok, not ALL). Defying convetion however does limit their work to certain areas of the world, this is why their project in Kuwait, B+F Burger Boutique was suspended, as evident in the above picture.
Hakkasan in London. Designed by Paris based Christian Liaigre


Christian Liaigre
has carved his name as a top interior designer by his suble modern Asian designs. His passion for Asian woodwork and simple lines, has allowed him to re-interpret it in a modern minimalistic way. Liaigre spends half of his time in Thailand, constantly researching new ideas. His work was epitomized in Alan Yau's Hakkasan, the founder of Wagamama in London. Liaigre has also teamed with Alan Yau for the creation of Busaba Eathai in Soho. His store in Paris is amongst the best furniture stores I have visited, filled with modern Asian items for the house of your dreams.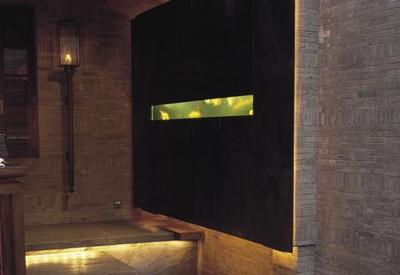 T8 Restaurant & Bar in Shanghai, China. Design by Yasuhiro Koichi of the Tokyo based Design Studio SPIN.


Yasuhiro Koichi
of Tokyo based Design Studio SPIN, has designed many notable restaurants in Asia, amongst them, The Restaurant at Chedi Muscat. My experience at The Restaurant and T8 in Shanghai has certainly made me admire him and place him on my list of top interior designers. His use of classic Asian accents of woods, materials and colors, along with modern application of subtle lighting and simple lines and modern materials, gave him his own identity.